Part 1 – Beijing to Lhasa
Many had warned me in advance that it would be difficult getting in to Lhasa. Few of these people, however, had mentioned that the greater challenge would be getting out again – at least, that is, in a way that coincided with my planned itinerary, budget, and desire to stay on the right side of the authorities. It was no doubt naive of me to think that a land with so many challenges of its own would bend to the whims of a twenty-something western backpacker, but then a wiser traveller may not have attempted the route at all. It was this very naivety and wide-eyed confidence that "everything will work itself out" that had led to me standing here, on the world's rooftop – the fabled Shangri-La – pondering my next move.
It was 2009 and I had spent the summer supervising a team of English teachers in China's Guangdong Province, moving between several cities and introducing local schools to more interactive forms of language-learning. At the end of the project our grateful Chinese hosts had flown us to Beijing to allow us to witness some of the sights lying in and around the Chinese capital, such as the ancient Great Wall (incredibly impressive), Tiannamen Square (less so), and the Forbidden Palace (difficult to judge as I couldn't see anything for the crowds). Never one to do things by halves however, and not wanting to miss an opportunity, I had decided to book my ticket home not from Beijing, but from Kathmandu, in about a month's time. My plan was to travel some 2000 miles south-west across China, up onto the Tibetan plateau, and over the Himalaya into Nepal. Failing that – well, there wasn't really a plan B, and beyond the above general trajectory, there wasn't much of a plan A, either.
Nevertheless my Chinese host, the head of one of the top schools in Guangzhou, had supported me in my plan by purchasing for me a train ticket from Beijing to Lhasa. I believe that it involved something of a back-hander, as the ticket contained a stamp stating that I was part of a group – at that time an "essential" condition for foreign tourists visiting the Tibetan Autonomous Region – despite the fact that my group would consist of me, myself, and I. This should be enough to get me to the train station gates at Lhasa, he assured me, but the rest was up to me.
The train journey westward took some 48 hours, but one could be mistaken for thinking that it in fact travelled backwards through time. As the train moved farther from the Chinese capital, edging ever-deeper into central Asia, one could almost see in reverse the process of industrialisation. The cities we passed looked progressively less modern, the agriculture and industry increasingly primitive. At times it was difficult to believe that this was in fact the same country as the shiny, modern cities of Beijing and Guangzhou in which I had visited previously.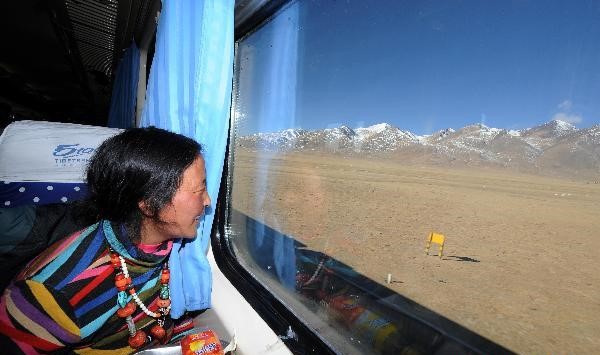 The landscape changed gradually too. As the train ascended up onto the Tibetan plateau, the vegetation became all the more sparse, the land all the more barren. Inside the train, however, life was flourishing, and I proceeded to make friends with my fellow passengers. I shared my carriage with a Chinese man and his daughter, the latter of whom became my trusted translator during the journey. She was studying English at school, and welcomed the opportunity to practice with a native speaker, while I was thankful to have someone who I could communicate with verbally, and who could translate the various announcements. I had been practicing some very elementary Mandarin during my time in China, while trying to recognise some of the characters, so much of our time was spent helping one another with our respective languages.
Finally, after two days and several bowls of packet noodles later, we arrived at Lhasa train station – our final destination and the furthest into Tibet that one can travel by train. We said our farewells, disembarked, and made our way to the gate. I watched as my fellow passengers, the vast majority Chinese, were waved through the gates, and hoped that my own passage would be equally smooth. As I reached the gate, the woman guarding it stopped me in my tracks, pointed to the stamp on my ticket, and asked me repeatedly in Chinese a question which to me was incomprehensible. I suspect, however, that it had something to do with my non-existent group and tour guide, and I feared that I had been rumbled.
My repeated display of ignorance when confronted with her questions – which was not entirely feined – eventually seemed to have worked as, exasperated, she finally gave up and waved me through. My unease and apprehension were by no means ameliorated as I walked through the station past lines of armed soldiers, out into the light of day and into the nearest taxi. In retrospect of course I could see that my own personal endeavors were quite possibly the last thing on the minds of these guards, or of those periodically marching through the streets of the city. Young and alone in a foreign land, paranoia lurks not far below the surface, and it is easy to fall into the trap of thinking that you are the sole focus of attention of everyone around you. The fact that, as a foreigner, the majority of those around you are looking at you, of course doesn't help matters. But it pays to realise that this is mostly out of curiosity, much as your own touristic foray into their lives and culture springs from an equal desire to witness the other – the unfamiliar – which more often than not leads to one staring on in child-like wonder.
The taxi took me to a hostel in the old part of town, somewhat ironically – and not a little tragically –  known as the "Tibetan Quarter". At the reception I was greeted by two young Tibetans, but I was soon to find that I had not left my concerns at the train station gate. They asked for my travel permits, and for evidence of the group that I was in. They kindly informed me that I needed to have my papers in order if I was to be booked into the hostel, and that the same rules applied all over the city. I explained to them that I did not currently have the papers, and they agreed to let me stay the night, insisting that I should seek them out first thing in the morning. I thanked them and retired to my room, now a little exhausted, and with a thousand impressions imprinted upon my mind.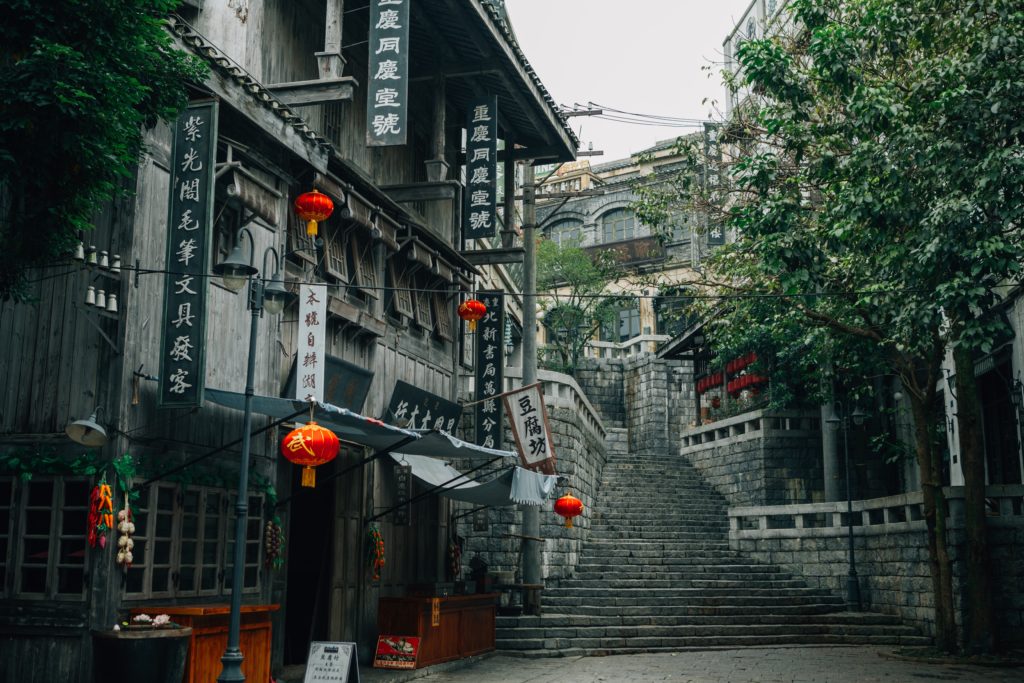 One certainly develops a greater appreciation for the distance travelled when taking a journey by train, much more so that when flying. This is of course especially so when that train journey takes the best part of two days. Nevertheless, it still felt strange to suddenly be in a room in Lhasa, atop the Tibetan plateau, having so recently been in the bustling modern cities of Eastern China. I no doubt needed time to adjust – to the culture, to the altitude, and to the bureaucracy – before I would proceed further along my journey. As I lay down to sleep, I reminded myself that I was finally here, in Lhasa, the city that I had read so much about – of so many travellers' tales. I had reached the symbolic half-way point of my journey, and tomorrow I would set out to explore the city. Beyond that, the Himalaya awaited, reminding me that the trickiest part of this tour, and in many ways the most interesting, still lay ahead.